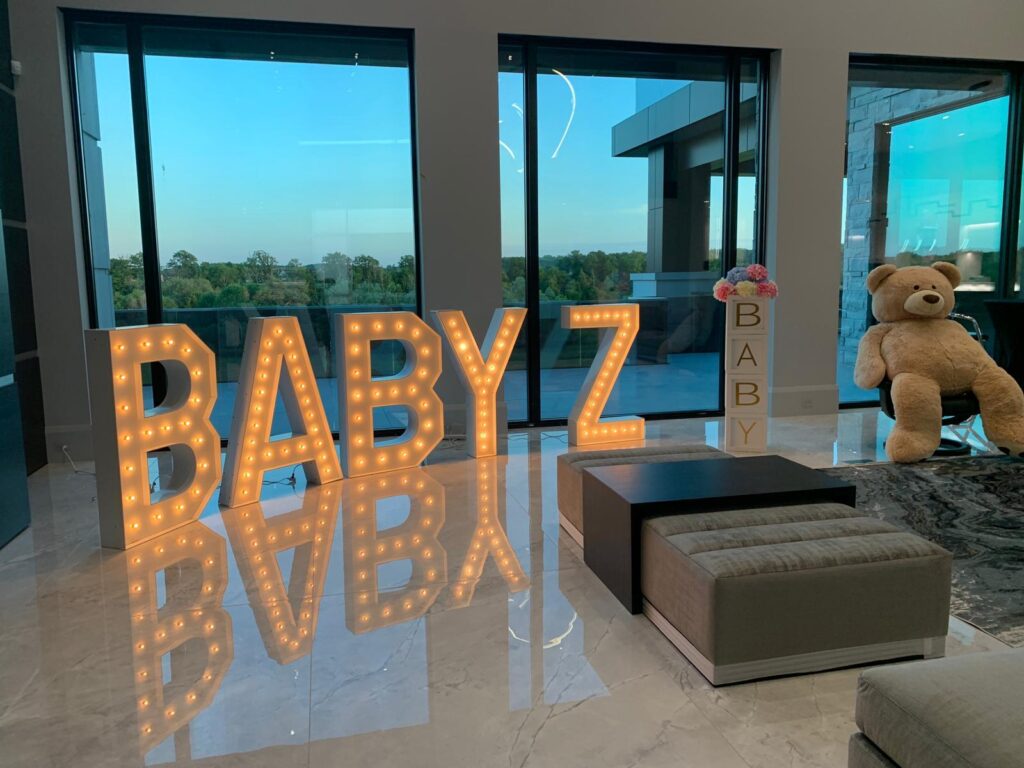 Baby showers are a fun and exhilarating time for all. Everyone awaits to see the gender of your baby which builds suspense, excitement, and joy, and it's important that this event is done in the proper way so that this special day can be remembered for a lifetime. With all your closest friends and family around, doing this day right will allow wonderful memories that no one will ever forget.
Photograph the guesses of your guests
Have your guests dress up in the correlating color of the gender they think the baby is going to be and use your Belleville rental photo booth company to capture these guesses! Taking these photos would bring joy and laughter when they look back a couple of years later as your family and friends will be able to see if they guessed it right. Taking a photo of your guests in the colors of their guesses will be a form of entertainment within itself as they will be amped up to take a photo in your Belleville photo booth so that they can remember this day for a lifetime.
Perfect form of entertainment
Planning activities for baby showers can always be frustrating since there are so many options. Some are too over done, and some are not done enough. But there is one form of entertainment that is just right and is enjoyed by everyone that often goes unnoticed, which is the rental photo booth Belleville company! There are endless number of possibilities for activities you can correlate with your Belleville photo booth rental. With your rental Belleville photo booth, guests will constantly be up on their feet wanting to take a picture, not worrying for a second if your guests are being provided with good entertainment.
Customize your props
With having a themed baby shower, you would also want fun props to fit your theme! With rental photo booth company Belleville, you can have the chance to customize your props to your liking, such as making them a certain color that correlates to your theme or have a certain message on them. Whatever it may be, Belleville photo booth company can get it done, making sure it suits all your interests!
Memorable prints
Belleville photo booth company rentals can have each of your photos be printed out with a personalized message, date, or design of your choice, making your special day a bit more special. Watch as your guests' faces light up as soon as they see that their photo has a customized design that will allow them to remember this day forever.
Elegant backdrops
From flower walls to marquee lights, to classic solid-colored backdrops, Belleville rental photo booth has it all. With these beautiful backgrounds in each of your pictures, you and your guests are bound stand out and look amazing! Our amazing background will add that extra bit of elegance and pizzaz that is important for every baby shower party!
Fun for all ages
It's a known fact that baby showers are seen to have guests of all ages attend them, this may rise as a concern when it comes to activities because not everyone may be interested in the same thing. But this concern will be out of your mind when you get a rental company Belleville photo booth at your party, as it will have something fun for everyone! Little ones and teens will be jumping for joy as soon as they see the fun props and bright lighting, and grown-ups will be lining up to pose for a photo as soon as they see the wonderful backgrounds and the opportunity to cherish this moment for a lifetime.
Photo booth rental company Belleville has something fun for everyone and serves as multiple activities all in one, as it captures all your memories, makes activities more exciting, and can be used as a souvenir for guests to remember the amazing moments they are bound to experience at your baby shower. With all these advantages that come with a photo booth Belleville rental, why wouldn't you want to have one at your baby shower? Start planning today!