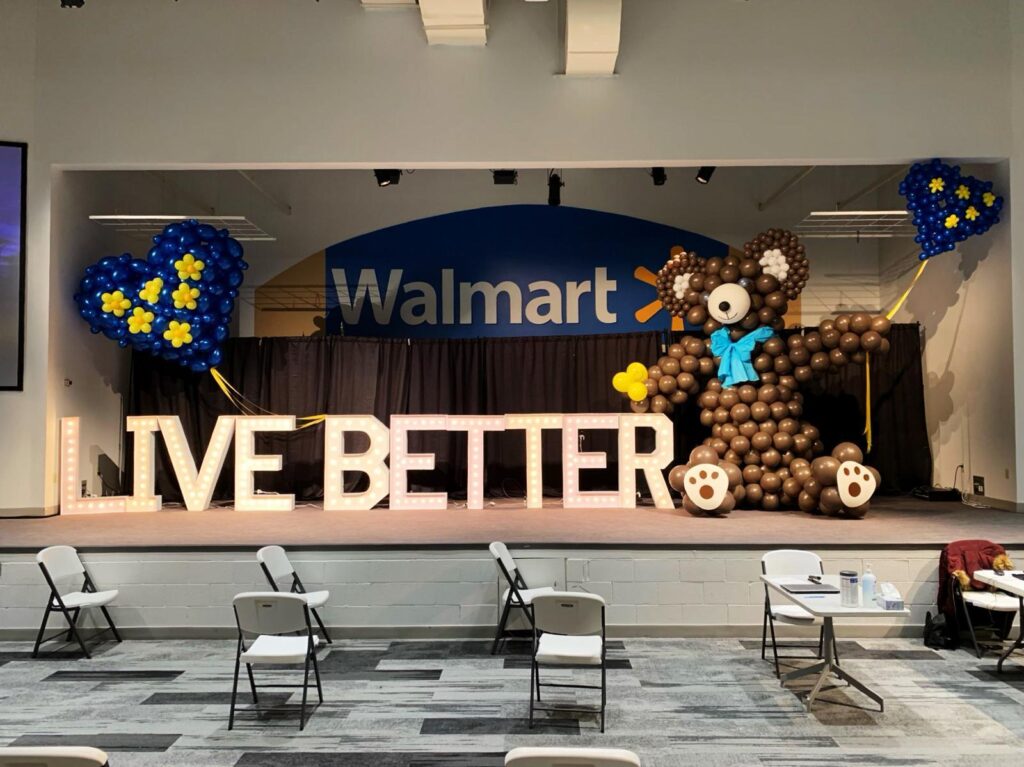 Having wide choices of balloon decor combos Stoney Creek might be overwhelming, and so here I am to help you pick the best suitable balloon color combos for your event!
First, the structure of the balloons stands out with their different purposes, it's important to figure out which balloon decor fits best for your party. Here at Party Decor in Stoney Creek, we offer a wide range of balloon packages. They vary from half arch balloon garlands to full balloon arches and balloon centerpieces. Our full balloon arch is a good decor to add in the entrance of your event, sending your guests a fun and vibrant greeting. Our half balloon arches are good with a backdrop, its purpose is to frame the guests in photos. It highlights the guests and gives a decorative look to the backdrop.
If you're hosting a kids' birthday party Stoney Creek, a vibrant and colorful event is to be expected by the guests, especially the children. You might want to go with multicolored balloon combos for your balloon decors. Having three or four colors in your palette gives the event a pop of color while keeping the event look organized and well-put. Popular birthday party colors combos are pastel green, light blue, pink, and pastel purple. They make beautiful contrasts and elevate the quality of your party.
If you're looking for a more mature look to your birthday party Stoney Creek, I've got just the color combo for you. Chrome gold, white, blush, and peach would make a great and elegant atmosphere to your event. These balloon colors are available on our website. A half arch balloon garland with this color combo would be great with a gold backdrop, for guests to take pictures with.
            If you're hosting a gender reveal party Stoney Creek, you might want to look for gender-neutral colors. Pink and blue are to be avoided, or they could be equally added in the color palette, so it doesn't lean on a specific gender. Pink, blue, gold are good balloon color combos if you want to combine them. If you want to completely avoid spoiling the gender of the baby, green, gold and yellow are pretty gender-neutral colors you can use for your balloon decor colors Stoney Creek. They are great contrasting colors that not only hides the gender of the baby, but also gives a picturesque setting to your event.
Princess themed birthday parties are fairy-like, and great for girl birthday parties Stoney Creek. For her birthday party to feel dreamy, a grand pink and gold balloon arch way in the entrance is the way to go. This gives a golden, noble feeling to the birthday girl! Along with other fairy tale party decors on our website, her birthday is sure to feel magical!
If you're hosting a pool party in Stoney Creek, summer colors are to be expected. Pink, yellow, orange and green perfectly describe the colors of summer. A great location to place the balloon arch is above the pool, arching over the pool. It's great as the highlight of the event.
These are just some great balloon color combos for any events in Stoney Creek. With the variety of our balloon structures and colors that we offer, you're sure to have a nice and vibrant party! Marquee letters with a green backdrop and a half balloon arch are a must-have combo in any of your events! Our balloon decors are also flexible when it comes to designs. For a more romantic setting, flowers and or lights could be added in between gaps of the balloons Stoney Creek to add more glamour to the environment!