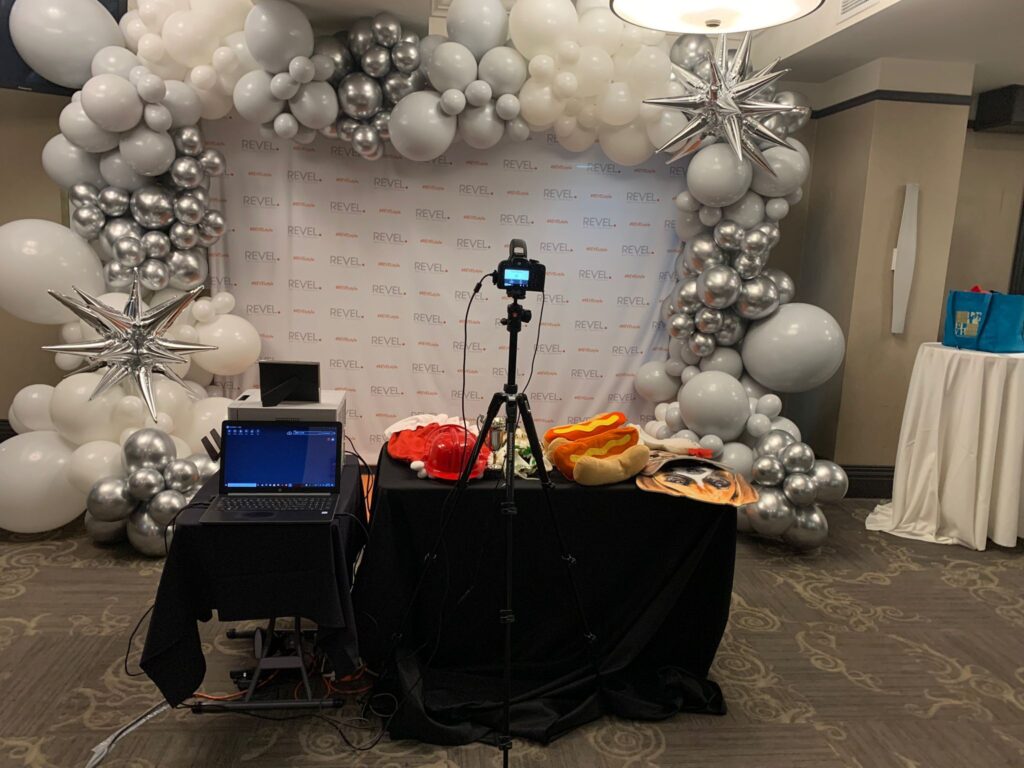 It's party time! Great parties call for great entertainment, and a Peterborough photo booth rental is a great way to bridge the gap between guests as it allows fun and bonding, all in one! There can be many misconceptions when it comes to having a photo booth rental Peterborough at your party. Many people directly assume things without fully understanding the various aspects that come with renting out a photo booth Peterborough, but this article will debunk those assumptions and prove to you that a Peterborough photo booth is the best form of entertainment you can have at your next event! With all the amazing benefits that come with your rental, not having one in the room would sound crazy to you by the end of this article!
Myth #1: Not fun for everyone
The first thing that people assume about rental company Peterborough photo booths is that they aren't fun for all ages! Crazy! The first automatic assumption that comes to people's mind is that only younger people, such as children and teens, would enjoy taking pictures in the booth. But this is completely wrong! Guests of all ages, including grownups, will enjoy the wonderful features of Peterborough photo booth rental company. With the great lighting, high-quality cameras, beautiful backgrounds, and fun props that are provided, there will be something enjoyable that will suit every one of your guests' interests.
Myth #2: Low quality
With the main purpose of a photo booth Peterborough rental being to take wonderful pictures for everyone, many people may think their pictures may not come out in high quality. But this is wrong as Peterborough rental company photo booths come provided with the best of the best equipment, such a DSLR camera that captures crystal clear images, bright lighting to make you stand out, and sturdy backdrops that will stand strong all night long. Peterborough rental photo booth company also comes with beautiful props and a wide range of elegant backdrop designs that you can choose from that will guarantee your pictures will stand out from the crowd.
Myth #3: Complicated to set up
With rental photo booth Peterborough, setting up, running, and taking down your booth has never been easier! Sitting back and relaxing has never sounded better as an experienced team member of ours will do all the work and oversee all issues that may potentially occur, removing all the worry and burden of off your shoulders. You will not be bothered, so that they only thing you need to focus on doing, is having a great time!
Myth #4: Not good entertainment
Rental photo booth company makes for great entertainment! It can play a major role when it comes to playing fun games with your guests! You can even project all the amazing images you take during your event so that all your guests can share some laughs together, toss around jokes, and make memories. Peterborough photo booth company makes for amazing entertainment as guests will be constantly of their feet wanting to take pictures in your amazing booth. With the fun props and backgrounds that come provided, your guests can't resist going up to your booth and taking a picture. With all these entertainment benefits, there will be nothing but joy in the air at your event!
Myth #5: All it takes pictures, and nothing else
What many people don't know about photo booth rental company Peterborough is that it doubles as many things rather than just taking photos! As mentioned before, it can be used for games, such as to document costumes on Halloween, and for Easter egg hunts on Easter. Your rental company Peterborough photo booth can also double as a party favor for you guests! You'll have the chance to send each of your guests' home with a personalized gift that they will cherish forever and remember the amazing party you had every time they look back at it.
Myth #6: Not as professional
With the high-quality cameras, lighting, and printer your Peterborough rental company photo booth will come with, your photos will come out to be the most professional looking photos both you and your guests have ever seen. Our clear images and bright lighting will ensure amazing pictures that will make your jaw drop. With the beautiful backgrounds and amazing props, your photos will turn out to be the best images you have ever seen.
Myth #7: Everyone does digital now
With old trends making a comeback, having a rental photo booth Peterborough would be a perfect piece to add to your event! Guests will love having a physical copy of their photo for a change instead of having their memories stored on their smartphones. But if guests do prefer digital, no problem! Rental company Peterborough photo booth allows for photos to be digitalized as well!
Myth #8: Can't be personalized
People usually think that photo booths can never have that personal touch to them, which is wrong! Rental Peterborough photo booths allow you to customize your prints on each of your photos, which will allow you to print personalized messages, dates, designs, or whatever you'd like, which will be sure to touch the hearts of your guests. Your props and backdrops can also be customized to suit your theme which will make you and your guests extra excited to take a photo!
Myth #9: No benefits from having a booth at your event
Many people fail to realize the benefits that come from having a Peterborough rental photo booth at your event. With having this form of entertainment at your party, guests will go from being awkward and not talking to each other, to having endless amounts of laughter and being closer friends than ever. Our rental photo booth Peterborough is spacious and will fit many guests in for a picture, which will allow for endless amounts of bonding and laughter. There will never be a dull moment with a rental company Peterborough photo booth in the room.
Myth #10: Photo booths take up a lot of space
With and open space in a venue, party room, or your backyard, a photo booth rental Peterborough would fit right in! Rental photo booth Peterborough will be in a spot that doesn't take up too much space so that there will be enough space for your other planned activities, making things not cluttered.
With all these common myths proven wrong, it is clear to see that no disadvantages can come out of a rental Peterborough photo booth. Start planning your perfect party today!